Introducing our 2019-2020-2021

Oklahoma Czech-Slovak Royalty!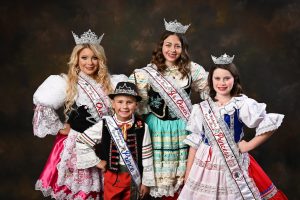 Thank you, Queen Emily, Jr Queen Kinzey, Prince Connor, and Princess Lola for accepting a second year of reign! (This is the first – and hopefully the last – royals in the history of the Oklahoma Czech Festival to serve two years.)
Who is the Oklahoma Czech-Slovak Royalty?
The Oklahoma Czech-Slovak Royalty represents and promotes the Oklahoma Czechs, Inc, and the Oklahoma Czech Festival which takes place the first Saturday of October in Yukon. Royalty consists of Queen, Junior Queen, Prince, and Princess.
*
Contestants must be Oklahoma residents of Czech-Slovak descent or legally adopted by parents of Czech-Slovak descent. Age categories are as follows: Queen, age 17-25; Junior Queen, age 11-16; Prince, age 5-10; and Princess, age 5-10. Contestants must be within these age ranges on August 15 of the current year.
*
*
"Czech" Us Out on Facebook!
Join the Oklahoma Czech-Slovak Queen, Junior Queen, Prince and Princess
as they share their year-long reign.