Saturday, October 7th, 2023!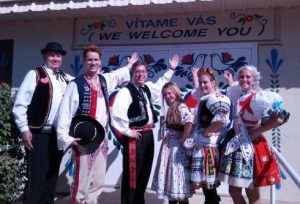 Join us Saturday, October 7th, 2023 for the 57th Annual Oklahoma Czech Festival!

The first weekend in October marks the Oklahoma Czech Festival, a Yukon tradition celebrating the town's rich Czech heritage.  Festivities begin Friday evening with a carnival in downtown Yukon.
The day-long festival officially kicks off Saturday at 8 a.m.  Thousands line Main Street from Garth Brooks Boulevard to 3rd Street for one of Oklahoma's largest parades beginning at 10 a.m.
Following the parade, festivities shift to the Oklahoma Czech building at 5th and Cedar.  Polka bands and traditional Czech and Slovak folk dance performances continue throughout the day.  Sample delightful Czech foods including koláče and klobasy sausages prepared by Oklahoma Czechs, Inc.  Members and volunteers bake more than 2,500 dozen koláče, (sweet Czech pastries), which typically sell out before noon!
Shop dozens of arts and crafts booths and festival food vendors.  Then join us at 4 p.m. for the coronation of the 2023 Oklahoma Czech-Slovak Royalty including a Queen, Junior Queen, Prince and Princess.  The festival concludes with the Royalty Coronation Ball at the historical Yukon Czech Hall located at 205 N. Czech Hall Road.  Everyone is welcome to come dance the night away to the music of the Masopust and Bohemian Knights bands!
The mission of the Oklahoma Czechs, Inc. is to preserve the precious traditions of the Czech people.  The family-friendly Oklahoma Czech Festival offers something for everyone and keeps Yukon's heritage alive by sharing the Czech customs handed down from generation to generation.
Our Festival is mostly all out doors. The City of Yukon has asked that no pets attend the festival this year! Service animals are allowed but not in the Oklahoma Czech, Inc. building.
Join us for a fantastic 57th Anniversary Celebration in October 2023!
The Czech Festival Committee